Fire Extinguishers Buying Guide
Fire extinguishers are one of the most essential items in any home. They are used to extinguish fires and can also be used in other situations such as chemical exposure. But, how do you know if you need a fire extinguisher? And what are the different types of fire extinguishers? This blog post will cover all of this and more. We will also cover the different fire extinguishers and how to find the right one for your needs. Like most people, you don't think much of fire when you see it. But the truth is, fire is a severe hazard. Not only is it a frightening sight, but it can also cause property damage and even death.
So if you live in a house with a fire, you must have a suitable fire extinguisher. Fire extinguishers are an essential part of your home security system. In this post, we're going to take a look at the best fire extinguishers for your home. We'll compare and contrast the different types of extinguishers, how to use them, and how to protect your home. We hope this post was helpful and that you'll learn something new about fire extinguishers and how to use them safely.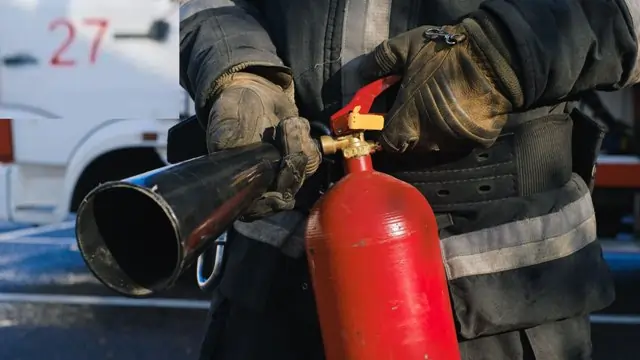 Types of Fire Extinguisher
Water Type Fire Extinguishers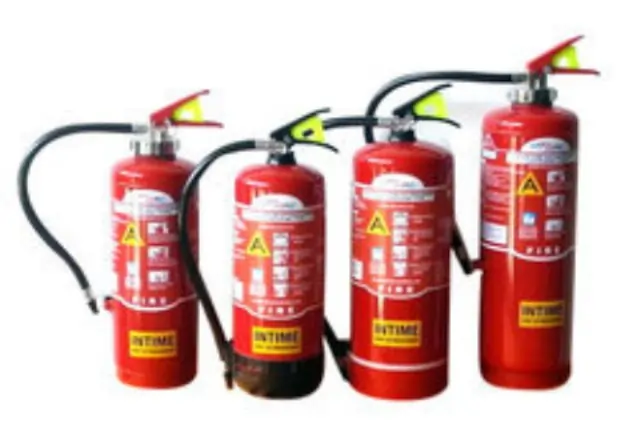 Water Type Fire Extinguishers are the best type of fire extinguisher for fighting fires involving solid combustibles like wood, paper, and textiles. They are class A rated and have a red label. However, they are unsuitable for electrical fires, so care must be taken near electrical equipment.
As far as the inner working is concerned, a water extinguisher works by having a cooling effect on the liquid that causes the burning fuel to burn slower until the flames are completely extinguished. They are used in buildings, including factories, warehouses, and garages.
AFFF FOAM Type Fire Extinguishers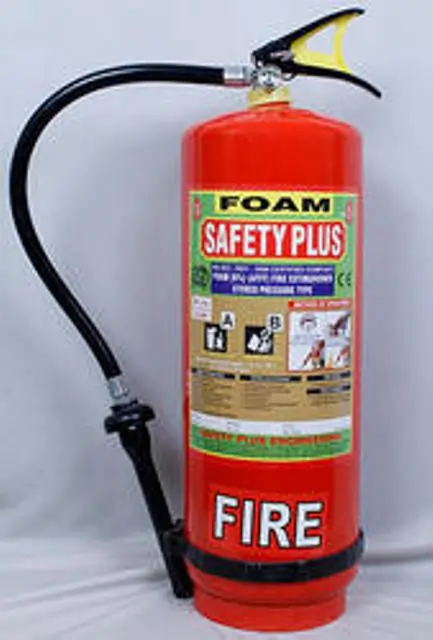 AFFF Foam Type Fire Extinguishers are used to extinguish flammable liquid fires such as fuel fires. Aqueous Film Forming Foam (AFFF) is a fire suppressant used to extinguish flammable liquid fires such as fuel fires. AFFF is often used in shipboard and shore fire suppression systems, fire fighting vehicles, and fire training facilities.
These extinguishers work by creating a cooling effect on the fuel that is responsible for causing the fire. When it is poured on burning liquid, the fire is extinguished by creating a barrier between the fuel and the flame with the help of the foaming agent.
CARBON DIOXIDE (CO2) Type Fire Extinguishers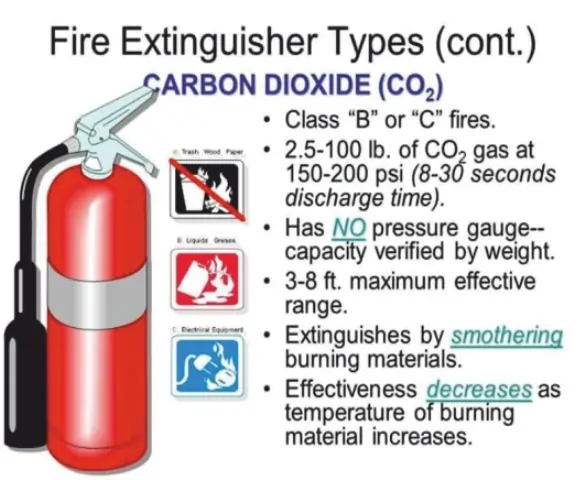 CO2 fire extinguishers are class B fire extinguishers ideal for electrical fires. They were initially designed for use on flammable liquid fires and therefore had a class B fire rating. The CO2 fire extinguishers can be used on electrical fires, as CO2 is not a conductor and does not leave behind any harmful residue.
Carbon Dioxide (CO2) Extinguisher is a type of extinguisher mainly used for electrical fire risks and is usually the leading fire extinguisher type provided in computer server rooms. It also puts out Class B fires. CO2 extinguishers suffocate fires by displacing the oxygen the fire needs to burn. This type of extinguisher has a black lab on the side with a large blue label.
CO2 is a non-flammable gas that is used to extinguish fires. It is a colorless, odorless, and tasteless gas used in fire extinguishers and pressurized fire suppression systems. CO2 extinguishers are filled with carbon dioxide under high pressure and have a horn to release the gas. The pressure in the cylinder is so great that dry ice may shoot out when you use one of these extinguishers.
ABC POWDER Type Fire Extinguishers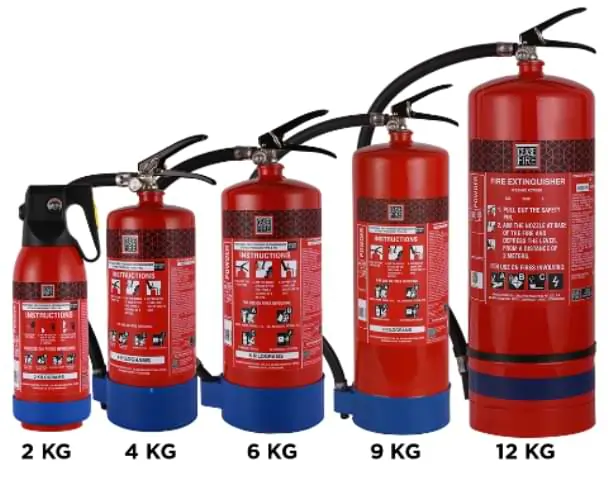 ABC Powder fire extinguishers are versatile and can be used on class A, class B, class C, and electrical fires. They are available in sizes from 1 – 9kg and are ideal for application in environments containing mixed fire risks. However, there is a risk of inhalation of the powder. ABC Dry Chemical powder is a dry chemical fire extinguisher. It is used on Class A fires, such as burning common combustible materials like wood, paper, or plastics. It is also used against burning (class B) liquids, oil, propane, gasoline, and natural gas.
Wet chemical fire Fire Extinguishers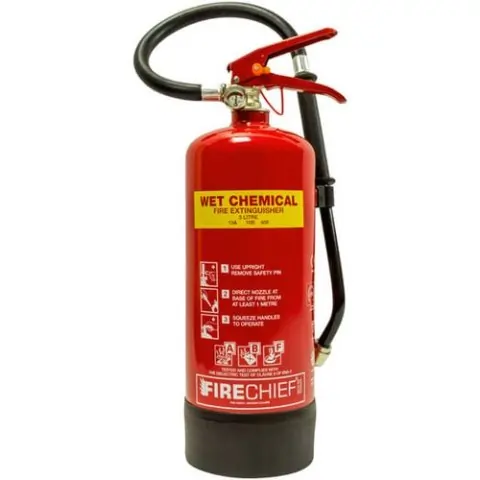 Wet chemical extinguishers are designed for Class F fires involving cooking oils and fats. They can also be used on Class A fires, although it is more usual to have a foam or water extinguisher for this type of fire risk. For fires involving cooking oils and fats (a Class F fire), a wet chemical extinguisher is the best option.
Wet Chemical Fire Extinguishers are designed to extinguish fires involving oil, grease, or other combustible liquids. They are usually supplied with a long lance which helps to deploy the foam safely. The wet chemical forms a thick, soapy foam-like blanket over the burning oil/fat's surface, stopping oxygen from reaching the fire and smothering the flames.
De-ionized water mist Type Fire Extinguishers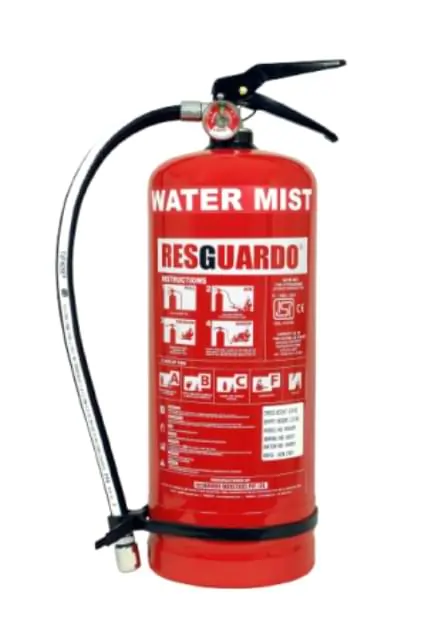 De-ionized water mist fire extinguishers are highly effective on classes A, B, and C and burning electrical equipment. The unique design of the supersonic nozzle of the water mist extinguishers creates a microscopic mist curtain, reducing the oxygen content. Our water mist extinguishers range in several sizes, including 0.5kg and 1kg.
De-ionized water mist Type Fire Extinguishers are a safe, clean, and efficient way to extinguish a fire. They discharge clean, deionized water through unique spray nozzles in microscopic particle spray that forms a mist curtain that is non-conductive and non-toxic. The water droplets are so tiny that they can cool and suffocate a fire without damaging the protected area.
Classes of fire
Class A fires are common and can be started by various materials, including paper, fabric, wood, and other flammable solids.
Class B fires are caused by flammable liquids such as paint, turpentine, or petrol. Class B fires are also commonly caused by paper, cloth, and other combustible materials.
Class C fires are caused by flammable gases, including methane, butane, or hydrogen. This is a very dangerous type of fire because the heat generated by the combustion of the flammable gas can cause the surrounding area to explode.
Class D fires are caused by combustible metals, including potassium, aluminum, and magnesium. The Class D fires typically involve the burning of metals, and they spread quickly.
Class F fires are caused by the ignition of cooking oils and fats. These fires occur when said oils or fats reach their flash point – in this case, the flash point is around 315 °c. At 340°c, cooking oils and fats can achieve autoignition – that is, they can set alight without a flame or other ignition source.
Electrical fires are caused by an electrical failure or malfunction in the components of equipment or machinery. Electrical fires can start in the electric wires, cables, circuit breakers, and within electrical components. Electrical fires can cause fires that can spread to other equipment or structures.
Tips to Buy the Suitable Fire Extinguisher
Select by Ratings;- Choose the suitable fire extinguisher according to the ratings given, as these ratings are important when purchasing an extinguisher. Ratings are printed on the extinguisher, and it is important to choose an extinguisher that is of the appropriate rating for the type of fire you are fighting.
Extinguishing Material:-Every fire class burns different fuels. Therefore, unique chemical substances are used to extinguish the fire. For instance, Class B-rated fire extinguishers generally release dry use to extinguish; other fire extinguishers use chemical powder or foam. The correct extinguisher for a particular fire is the one that is designed to extinguish the fire in the most effective way. So, if you are in the market for an extinguisher, get one that is a Class B rating.
Fire Extinguisher capacity:-It is very important to buy a fire extinguisher that is just the right size for your vehicle. A small fire extinguisher like 0.5 kg or 1kg is suitable for vehicles, whereas 4 kg and above are suitable for Industrial Use. In the case of Water-type, the unit of measure is liters. Capacity should be decided when we have an estimate of fuel that could be burned.
Fire Extinguisher Quantity:-Fire extinguisher rating is the number of extinguishers in a room divided by the floor area. You need to multiply the fire extinguisher rating by the number of people in the room to determine the class of the fire extinguisher. For example, if the room has 20 people and the fire extinguisher rating is 3 per room, the fire extinguisher rating for the room would be 3×20=60.
Fire Extinguisher Effectiveness:- It is essential to buy an effective extinguisher to fight fires, as different ratings will be more effective in different areas. Two-A ratings are less effective than a 3A rating, for instance. Choosing an extinguisher with a level of ratings is also important, as different extinguisher models will have different ratings.
Our top 10 Picks on Fire Extinguishers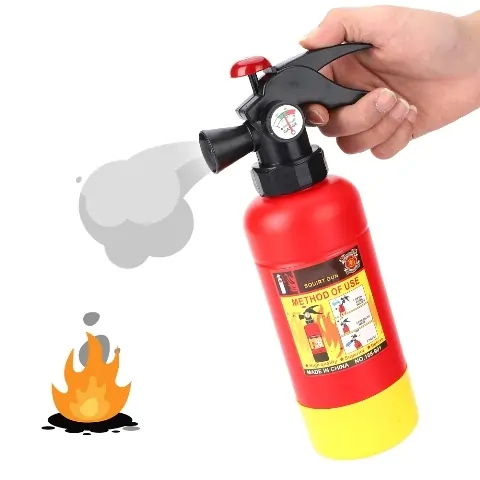 The FAGINEY Greensen Fire Extinguisher is a perfect toy for your little ones! It is made of non-toxic plastic and is environmentally friendly and durable for years. The strong and durable nozzle is small, and the mouth is gentle on toddlers so they can play safely with it. The comfort handle will make it easy for you to use, and the small mouth makes it perfect for little kids.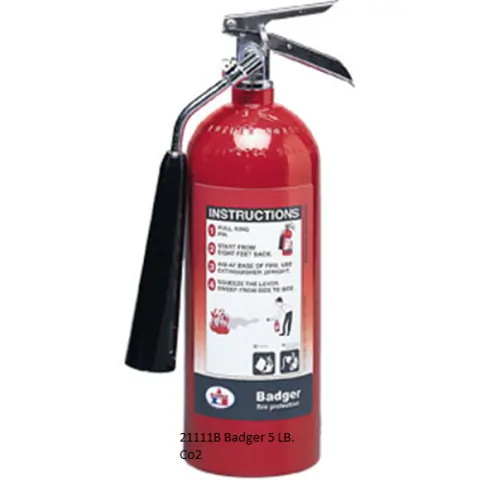 CARBON DIOXIDE (CO2) FIRE EXTINGUISHERS offer fast, safe and effective protection against fires involving electrical equipment and flammable liquids. They are generally suited for use indoors, making them ideal for today's office environments. The cylinders are manufactured from lightweight high-grade aluminum with brass valves. They are highly effective, easy to use, and leave no messy residue to clean up. This Co2 Carbon Dioxide Fire Extinguisher is the best in his class.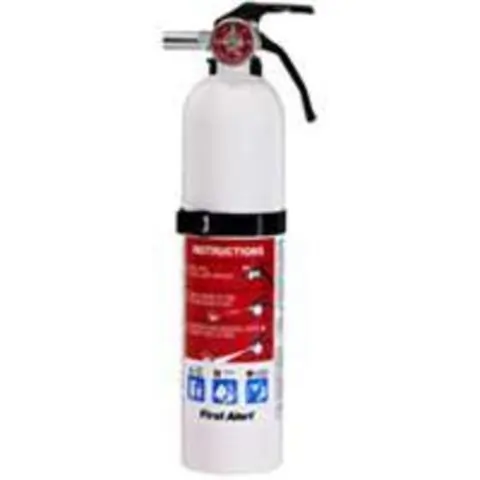 The 4PK-First Alert MARINE1 Fire Extinguishers are perfect for use in hazardous environments. The CARBON DIOXIDE (CO2) fire extinguishers offer fast, safe and effective protection against fires involving electrical equipment and flammable liquids. These fire extinguishers are generally suited for use indoors, making them ideal for today's office environments. The cylinders are manufactured from lightweight high-grit aluminum and are triple-sealed to protect your equipment from moisture and fire.
Rechargeable home fire extinguisher; Monoammonium phosphate extinguishing agent; Effective against fires involving paper wood textiles and plastics as well as flammable liquid fires and electrical fires; Corrosion resistant metal valve and trigger; Easy-to-read color-coded pressure gauge; 15.4 height x 8.8 widths; Mounting bracket and strap are included; U.S. Coast Guard approved; Rechargeable – Multi Purpose; Ul Rated 1 A:10 -B: C; 2.4 Pounds – Marine; Color: White;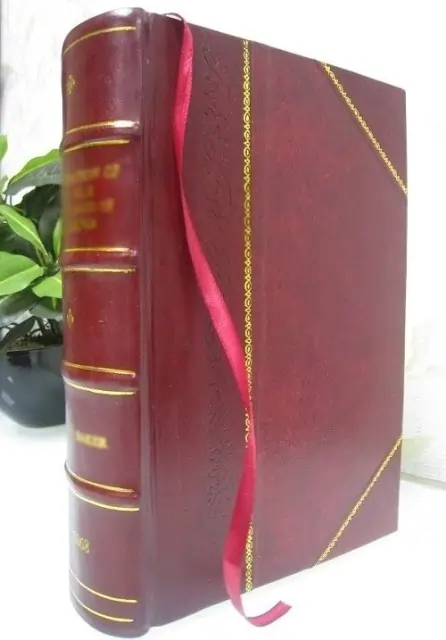 This is a high-quality, unique, exciting Fire extinguisher for automobiles in 1914. The beautiful and rare leather binding on the spine and corners with golden leaf printing on the round spine makes it a beautiful item. It was reproduced in 2019 with the help of an original edition published long back. The fire extinguishers for automobiles 1914 are an antique item and would be an excellent addition to any collection.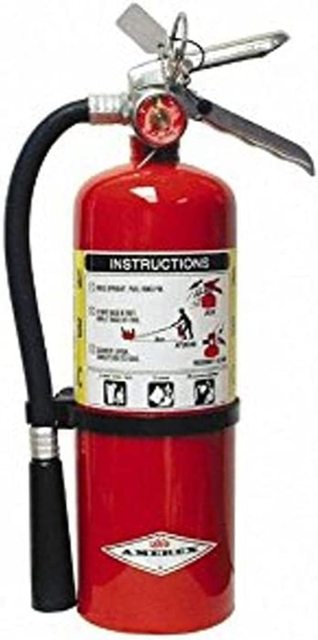 LAKeyen B500 Dry Chemical Fire Extinguishers are the perfect choice for businesses and homes that need extinguishers for chemical fires. With a multi-purpose extinguisher that utilizes a specially fluidized and siliconized mono ammonium phosphate dry chemical, this extinguisher can smother and break the chain reaction of Class B fires, preventing them from spreading.
ABC or Multi-Purpose extinguishers utilize a specially fluidized and siliconized mono ammonium phosphate dry chemical. It chemically insulates Class A fires by melting at approximately 350°F and coats the surface to which it is applied. It smothers and breaks the chain reaction of Class B fires and will not conduct electricity back to the operator.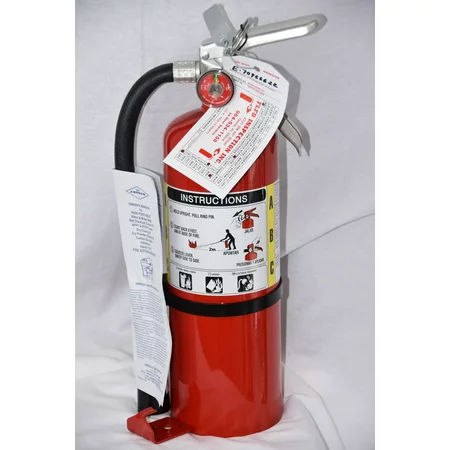 ABC Dry Chemical Fire Extinguishers is a professional-grade fire extinguisher that is perfect for home and office use. ABC Dry Chemical Fire Extinguishers are equipped with a tag that makes it easy to identify fire inspections. The bracket provides a stable platform for the extinguisher, and the fire extinguisher works with a water stream to put out fires quickly.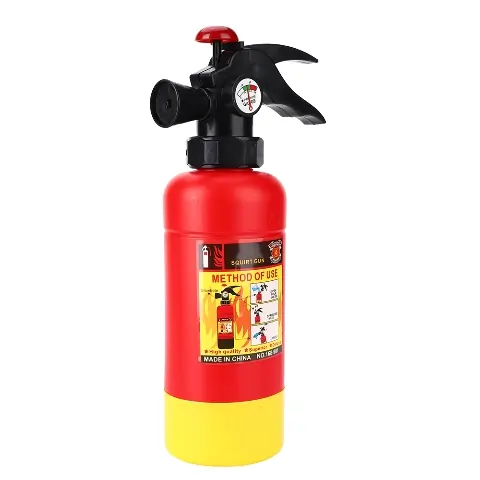 The Fire Extinguisher Toy is a perfect gift for any child who loves playing with fire. The toy is made of solid plastic and is environmentally friendly. It is also sturdy and easy to slip off, making it perfect for play. The high-pressure nozzle makes it easy to extinguish fires, and the small mouth makes it easy for children to get the extinguisher into the target area.

The First Alert DHOME1 FE1A10G195 is a professional fire extinguisher that is perfect for use in small kitchens, dens, and other areas where a fire may occur. The DHOME1 is equipped with a water jet and a heat-resistant hose for an easy connection to your water heater, and the extinguisher has 3.3-inch x 3.3-inch x 14.3-inch size. The DHOME is the perfect fire extinguisher in small kitchens, dens, and other areas where a fire may occur.

The First Alert EZ Fire Spray is a new, effective extinguishing aerosol spray for use in interior and exterior applications. The aerosol spray is perfect for use in areas of high occupancies, such as kitchens, bathrooms, and lobbies. It has a durable Finish Type metallic to give a great look and feel. The 1.0 count unit makes it easy to use and easy to store. The First Alert EZ Fire Spray is an excellent addition to your home security arsenal.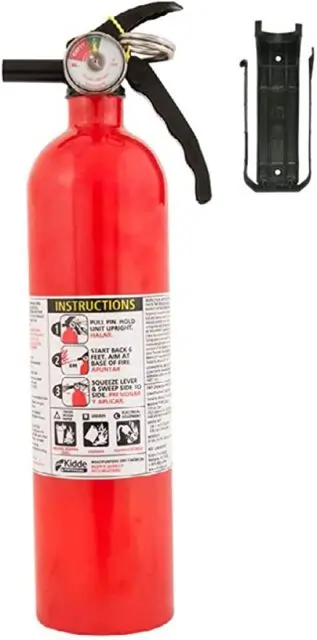 The Kidde FA110 Multi Purpose Fire Extinguisher is a disposable home fire extinguisher that can be used to extinguish fires in both combustible and non-combustible materials. The FA110 is a 10-acre fire extinguisher with a 2.5-pound product weight, making it easy to carry and use. The FA110 features a 2.5-pound spray size and a 10-acre rating, making it ideal for use in various applications.

StaySafe 5-in-1 Fire Extinguisher is an excellent addition to any home. The StaySafe 5-in-1 Fire Extinguisher is made with a durable and long-lasting material that can handle even the most stubborn fires. The extinguisher has a broad 1a rating that can handle a range of fires, and the spray can reach up to 2.5 lbs. per case. StaySafe does not need to fumble with a fire extinguisher when you need it most.
FAQ on Fire Extinguishers
Blog Conclusion
We hope you enjoyed our blog post on Fire Extinguishers. Fire is scary, and it is essential to have the proper protection in your home. Today we will highlight some of the most popular types of Fire Extinguishers. We hope that you will find the one that is right for you. If you have any questions, please contact us at https://marinediesel.co.in/contact-us/. Thank you for reading; we would love to hear from you.