Diesel Generator Parts
Diesel generators are top-rated across the globe due the reason that they are very efficient and reliable. Diesel generator parts are an essential part of a machine. They make the engine run more efficiently. In this post on Diesel Generator Parts, we will discuss about the spares parts, type of spare parts, and importance of using the genuine spare parts. This post will be useful for the owners and operators of the Generator sets on board ships and in the industry. We will also provide tips on finding the correct details for your diesel generator and fixing any problems you may experience.
What are spare parts
Diesel Generator Parts is the part to be maintained in inventory for the use in following occasions
On completion of the life of the part
Rejected during the preventive maintenance.
Part damaged during the breakdown/ accident of the equipment.
Maintenance of the inventory in reference to the point no.1 and 2 is as per the guide lines of equipment manufacturers. The list of spares to be maintained will be the list marked a wearing parts.
The spares inventory to be maintained as per the experienced base and it will never be mentioned in the Manufacturers guide lines.
Maintaining the list of spares will be based on past experience of similar machine and the long experience of an engineer.
There were occasions where few capital expenditure parts were procured but were used rarely in the life time of a machine.
But the failures of such parts could have been a heavy cost to the plant and Ship in case the part was not readily available.
Few parts delivery period by the supplier is too long. Hence it is advised that such parts must be available for the emergency use.
Source of procurement
In the light of past experience having worked as head of Services and spares I have experienced the following
Owners procure the generators/Engines from the ships. These equipments are well maintained but fail within few hours after the installation at new site in industries. The reason for the failures is as under.
Procurement of parts at cheaper rates from the grey market.
Pound foolish penny wise.
Machine handling by inexperienced technicians.
Not carrying out the maintenance before re-commissioning at new site.
Not following the OEM preventive maintenance routines.
Incomplete installation with improper engineering design of power plant.
Adopting the improper erection and commissioning procedures.
Plant not operated by experienced operators.
Not having a standby machine to carry out the proper maintenance of the machine in operation.
The importance of Genuine spares parts
Genuine spares from OEM are used to maintain the efficient operation of the Diesel Generator in addition to the repairs and replacement of the damaged and worn parts. Original spare parts will help protect the generator from any catastrophic failure that might occur due to the use of duplicate parts procured from the grey market.
Hence original equipment manufacturer (OEM) spare parts are essential for diesel engine electric generators. It will cause irritation and expensive replacement several times during the problems. In all the circumstances
Genuine spare parts are the only option for maintaining your device's original performance and keeping it running for as long as possible. Genuine spare parts are manufactured to be compatible with the original equipment from the manufacturer. Spares are manufactured for easy interchanging and use in the same manner as their equipment counterparts.
It is necessary to keep the inventory of OEM spares because they can be required at any time, thus creating a significant financial burden to the owner in case they are not readily available and in sufficient condition to be installed.
Guide lines for the owners
Maintain the proper inventory of spares as per the OEM recommendations.
Procure the parts from the genuine source.
Take the expert advice for the erection, commissioning, operations and maintenance activities.
Follow the advice of Experts.
Always carry out the maintenance as the planned maintenance schedule.
As for as possible must have stand by source for carrying out the maintenance of the running plant.
Types of spare parts for a power plant/ Ship (Diesel Generator Parts)
Wearing parts
Experience based spares.
Emergency parts.
Wearing Parts
Wearing Diesel Generator Parts can't be repaired and need to be scrapped after certain running hours prescribed by the OEM. Wearing parts must be planned well ahead of maintenance. The overhaul maintenance schedule could be easily predicted by the no. of running hours per month or per annum. Each OEM provides the list of wearing parts in their operational manual.
Experience based spares (Diesel Generator Parts)
The experienced based is prepared in reference with the past experience and running conditions of such machine. This list of spares is also too critical and to be maintained in inventory. It has been observed that a list of experienced base spares was not prepared and maintained resulted in over delay of overhauling schedule.
Emergency parts
The minimum spare parts to run each unit are recommending the OEM. This list is mandatory for the smooth operation of any Engine. The list is to be the part of inventory and to be updated periodically. As per my experience i have found it useful during my sea time on board ships and as a chief engineer of the captive diesel power plant. Even today i always recommend the customers to keep the inventory of these spares.
The list of emergency spares to be kept in inventory is as per the following table
| | | |
| --- | --- | --- |
| Sr. No. | Part Description | Quantity |
| 1 | Main Bearing Set | 02 set |
| 2 | Thrust Washer ( bearing) | 01 set |
| 3 | Main Bearing Stud | 02 |
| 4 | Nut for main Bearing | 02 |
| 5 | Oil Sealing ring for crankcase door | 01 |
| 6 | Inlet valve Spindle | 02 |
| 7 | Exhaust Valve Spindle | 02 |
| 8 | Conical Piece ( Valve Locks) | 06 |
| 9 | Valve Spring | 06 |
| 10 | Valve Seals | 02 |
| 11 | Valve seat exhaust | 04 |
| 12 | Valve Rotator | 04 |
| 13 | O ring for Cylinder head | 04 |
| 14 | O ring for Cylinder head Cover | 02 |
| 15 | Complete set of O rings for Cylinder Head | 02 |
| 16 | Cylinder Liner sealing ring | 02 |
| 17 | Piston Pin | 01 |
| 18 | Piston Ring Set compete | 02 |
| 19 | Connecting rod bearing | 02 |
| 20 | Bush for connecting rod | 02 |
| 21 | Connecting rod big end stud | 02 |
| 22 | Connecting rod shaft stud | 02 |
| 23 | Nut for connecting rod big end | 02 |
| 24 | Nut for connecting rod shaft stud | 02 |
| 25 | Cylindrical pin | 04 |
| 26 | Fuel Injection pump | 02 |
| 27 | Fuel injection valve complete | 02 |
| 28 | Nozzle ( Atomizer) | No. of cylinder/2 |
| 29 | Fuel Injection High pressure pipe | 02 |
| 30 | Flexible connecting pipe | 01 set |
| 31 | Shaft seals for Ht Water, LT water, Lube oil pump, Pre lube pump and fuel supply pump | 01 each |
Use of Diesel Generator Parts from grey market will cause the catastrophic failure and in most of the cases repairable damage to the main components of the machine.
It is further advised that always take the expert advice for the preparation of Spare part lists.
Important Marine Engineering Books
This second edition deals comprehensively with all aspects of a ship's machinery from propulsion and steering to deck machinery and electrical equipment with a strong emphasis upon correct and safe procedures.
Material has been added and revised to reflect the greater weight now being placed upon the cost-effective operation of ships; in terms of greater equipment reliability, more fuel-efficient engines, the ever-increasing shift towards automatically operated machinery, and the need for fewer engineering crew. This is an invaluable guide for professionals but equally covers the requirements for Class 4 and Class 3 Engineer's Certificates of Competency, the first two years of the Engineer Cadet Training Scheme, and the Engineering Knowledge syllabus for the Master's Certificate.
This textbook is key for all marine engineering officer cadets. Accessibly written and clearly illustrated, General Engineering Knowledge for Marine Engineers takes into account the varying needs of students studying "general" marine engineering, recognizing recent changes to the Merchant Navy syllabus and current pathways to a sea-going engineering career. It includes the latest equipment, practices and trends in marine engineering, as well as incorporating the 2010 Manila Amendments, particularly relating to management.
It is an essential buy for any marine engineering student. This new edition reflects all developments within the discipline and includes updates and additions on, among other things:· Corrosion, water treatments and tests· Refrigeration and air conditioning· Fuels, such as LNG and LPG· Insulation· Low sulphur fuels· Fire and safety Plus updates to many of the technical engineering drawings.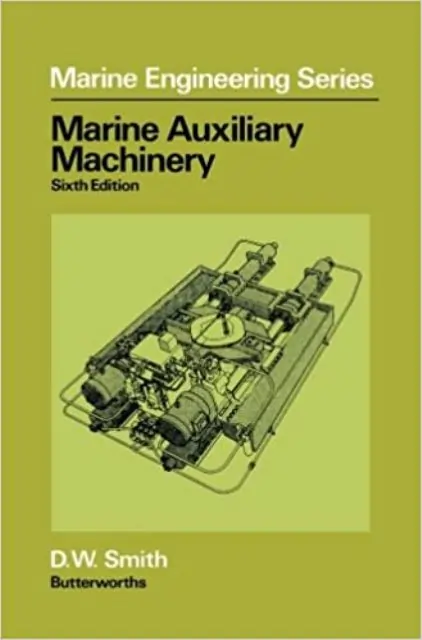 "The strength and depth of information contained in the book, together with the clarity of the line drawings, makes it ideal for marine engineers studying for certificates of competency but it would also be extremely useful for marine engineer cadets and undergraduate marine engineers. Practising marine engineers, both ashore and afloat would also benefit from possession of this volume which is highly recommended." Marine Engineer's Review
The book is comprehensive and includes almost all topics needed to understand marine diesel engines. The book explains the role of heat in engineering science, the principles behind internal combustion engines, the role of fuels and lubricants, the cooling systems, the lubricating systems and the heat exchangers.
The book also explains the various parts of the marine engines and their functions. Air-storage tanks and air compressors are also dealt with in the book. Information on balancing and vibration, various instrumentation and control methods, along with the safety measures are covered in the book.
Lamb's Questions and Answers on the Marine Diesel Engine was published by Butterworth-Heinemann in 1990. The eighth revised edition is available in hardcover.
Key Features:
Lamb's Questions and Answers on the Marine Diesel Engine is an ideal reference and guide for marine engineers.
The book explains topics in detail, making it easy for beginners to understand the subject.
Pounder's Marine Diesel Engines and Gas Turbines, Tenth Edition, gives engineering cadets, marine engineers, ship operators and managers insights into currently available engines and auxiliary equipment and trends for the future. This new edition introduces new engine models that will be most commonly installed in ships over the next decade, as well as the latest legislation and pollutant emissions procedures. Since publication of the last edition in 2009, a number of emission control areas (ECAs) have been established by the International Maritime Organization (IMO) in which exhaust emissions are subject to even more stringent controls. In addition, there are now rules that affect new ships and their emission of CO2 measured as a product of cargo carried.
Provides the latest emission control technologies, such as SCR and water scrubbers
Contains complete updates of legislation and pollutant emission procedures
Includes the latest emission control technologies and expands upon remote monitoring and control of engines
This book Caters to marine engineer candidates for Department of Transport Certification as Marine Engineer Class One and Class Two. It covers the various items of ships' electrical equipment and explains operating principles.
David McGeorge is a former lecturer in Marine Engineering at the College of Maritime Studies, Warsash, Southampton. He is the author of General Engineering Knowledge.
A Pocket Book of Marine Engineering: Questions and Answers is a book that covers the topic of air filter for engine in great detail. This book is a great resource for anyone who wants to learn more about this topic. The author, John Myatt, is a world-renowned expert on marine engineering. In this book, he covers everything from the basics of how these engines work to more advanced topics like choosing the right air filter for your engine. If you're looking for a comprehensive guide to air filter for engine, this is the book for you.
This handy pocket-sized guide is filled with hundreds of questions and answers on marine engineering, covering all the basics from engines and propulsion to steering and safety. It's perfect for anyone who wants to learn more about this fascinating subject, whether they're studying for a qualification or just interested in how boats work. With clear explanations and plenty of diagrams, this book is an essential reference for anyone with an interest in maritime engineering.
Based on the 2014 National Automotive Technicians Education Foundation (NATEF) Medium/Heavy Truck Tasks Lists and ASE Certification Test Series for truck and bus specialists, Fundamentals of Medium/Heavy Duty Diesel Engines is designed to address these and other international training standards. The text offers comprehensive coverage of every NATEF task with clarity and precision in a concise format that ensures student comprehension and encourages critical thinking. Fundamentals of Medium/Heavy Duty Diesel Engines describes safe and effective diagnostic, repair, and maintenance procedures for today's medium and heavy vehicle diesel engines, including the most current, relevant, and practical coverage of: • HD-OBD emission diagnostics • Common rail injection systems
Diesel Generator Handbook meets the need for an authoritative reference work covering the range of mechanical and electrical topics embodied in the practical design and application of diesel generating plant. It will be particularly welcomed in many parts of the developing world where the diesel generator is basic to the electricity supply system.
The discussion covers, in fifteen chapters, the prime mover, power ratings, synchronous generators, load assessment, control principles and systems, switchgear and controlgear, standby power, fuels and lubricating oilss, installation and commissioning, noise reduction, and plant operation and maintenance.
The book thus caters for all who are concerned with the selection, specification, testing, commissioning, operation and maintenance of diesel-based generator systems: not only the practising plant or services engineers, but also non-specialist engineers and users. The young technician or trainee engineer who is embarking on a career in the supply industry will find this handbook an invaluable investment.
L L J Mahon, FIEE, FBIM, after an engineering apprenticeship with BTH in Rugby, gained over 30 years' experience in the design, development, manufacture, installation and commissioning of both stationary and highly specialised mobile diesel generator plant for a range of applications.
"Power Plant Performance" Book Review: This book provides an overview on the operations of power plants. It describes the various concepts required in understanding the functioning of power plants. It provides details on how testing is performed and what monitoring should be applied to optimize performance. It covers aspects like steam cycles, boilers, turbines, condenser and feed heaters, and related topics. It provides numerous solved and unsolved examples for enhanced understanding. The book is designed for students, teachers, and professionals in the field of engineering and science.
Blog Conclusion
We hope you enjoyed the blog about Diesel generator parts. We are always happy when we have the opportunity to help our readers understand a topic like this. We hope this helps you learn more about Diesel generator parts and makes it easy for you to share your knowledge with others. If you've enjoyed our post, please share it on social media and if you want to learn more, then visit our website at https://www.marinediesel.co.in/. Thank you for reading, we are always excited when one of our posts is able to provide useful information on a topic like this!
In case of any adv from the author, Please leave you remarks on the mail id ( [email protected] )